Buxton Heating Engineers
New Central Heating installations
Maybe your existing central heating has reached a point where replacement is more economical than repairing, or possibly you are having building work carried out, and your current system is no longer suitable. Whatever the scenario is, we can help. There are multiple different types of heating systems that we can install to meet all of your needs.
A new heating system is likely to be much more efficient than your current setup and can offer savings on your energy bills which is essential with the current energy prices.
At Buxton Plumbing & Heating our operatives are qualified to install both Gas and LPG boilers and appliances so you can rest assured that your installation will be carried out to current building regulations and the highest possible standard.
Boiler Replacement Buxton
Whether your boiler has broken down, or you are looking to replace it for one that is more efficient or even to convert your current system to a combi boiler and allow for the removal of your existing hot water cylinder and tanks, then we can help.
We have the skills and experience required to ensure that your new boiler will perfectly meet your demands and that it is correctly sized and installed for optimal efficiency.
Boiler Servicing
Having your boiler serviced regularly ensures that it remains in good condition and allows us to potentially resolve any issues before they cause a breakdown or even more serious repair works are required. When carrying out a service, we will check the overall condition of the boiler, ensure it is fully functioning as it should be, and advise of any upcoming issues.
It is advisable to have your boiler serviced annually, and we can arrange to contact you yearly to remind you when it is due for its next inspection.
Gas and LPG Central Heating Installation | Boiler Upgrades | Repairs & Maintenance
For all your central heating and Plumbing needs, we can help. Contact us today .
Boiler & Central Heating Breakdown
If your central heating is not working, then we can help. Breakdowns are widespread, and sometimes they are easy to resolve. Whether it is your boiler that is faulty or a component of your central heating system, we will be able to pinpoint the fault quickly.
With our operatives' expert knowledge, you can rest assured that we will be able to resolve your issues swiftly, ensuring that you are back up and running in no time at all.
Gas Certificates | CP12's
We work with many clients who have yearly gas inspections carried out. Maybe you are a landlord or a letting agent needing a reliable plumbing and heating company in Buxton and the surrounding areas of Derbyshire; to provide you with gas safety certificates. If so, we can help.
Yearly gas checks are essential for many of our clients, and ensuring that your gas products are kept in a safe condition with any issues highlighted is paramount.
Power Flushing
Over time a central heating system can become sludged up and can lead to blockages which can ultimately damage the system. At Buxton Plumbing & Heating, we offer power flushing, which is one of the best ways of removing all the harmful buildup. It works like a power jet washer by blasting water to one part of a heating circuit at a time, allowing it to be thoroughly rinsed out using chemicals. Once completed, we dose the system with an inhibitor to ensure it stays in optimum condition for as long as possible.
If you are searching for Heating Engineers near me or even Heating company near me, and we popped up in the searches, then we likely cover your area.
We work throughout Buxton and the surrounding areas and offer a 24-hour service.
Please do get in contact, and we will be happy to discuss the work that you require and also arrange a time that is convenient for you to carry out a free onsite survey.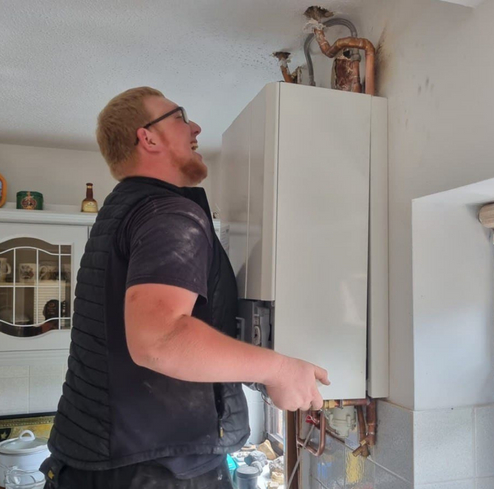 We'll Help you stay warm, with a reliable heating system!
Installers of both gas and LPG appliances.
Get Started