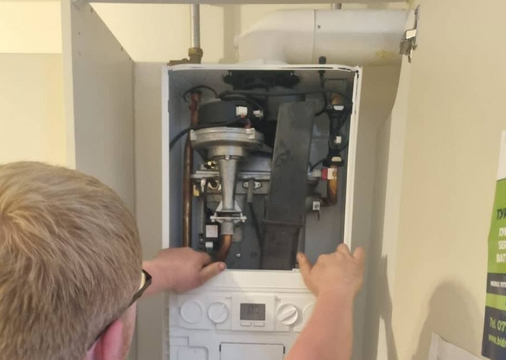 Plumber Buxton
Welcome to Buxton Plumbing and Heating's website. We offer a professional service catering to all your mechanical needs in Buxton and the surrounding areas of Derbyshire.
Our operatives are dedicated to providing an unmatched, first-class service in all works we undertake. We work on a straightforward approach to ensuring our customers' needs are dealt with swiftly and effectively, ensuring that their plumbing or heating issues are resolved with the least possible disturbance.
Plumbing & Heating Services Buxton
Over the years, the operatives at Buxton Plumbing and Heating have built up a vast amount of experience and can tackle all your plumbing and heating-related issues.
We will discuss your needs and how we can best serve you when you initially contact us. If you have an emergency plumbing issue or your boiler has broken down, we will do our very best to prioritise you.
For planned works we will arrange a convenient time to conduct a survey and thoroughly assess your needs. This includes projects such as bathroom remodels or even central heating installations and boiler upgrades. Upon carrying out a survey it allow us to look at all the available options and ensure that your needs will be fully met.
We will always offer an honest and transparent solution to your plumbing and heating needs and we'll never try to upsell products or services. We believe in offering a variety of options which allows our customers to make informed decisions at their leisure.
You can also rest assured that you are in safe hands. Our operatives are Gas Safe registered and hold full public liability insurance. Whether you use our services or another company, always ensure that they are suitably qualified, experienced and insured for the works you wish to undertake.
Feel free to ask to see our operatives' gas-safe identification at any time.
Plumbing & Heating Services in Buxton
Whatever your needs are we'll take care of them. Contact us anytime to discuss how we can help you
Buxton Plumbing & Heating
A local plumber serving clients in Buxton and the surrounding areas of Derbyshire.
No job too big or small!
Contact us
New Central Heating installations
Maybe your existing central heating has reached a point where replacement is more economical than repairing, or possibly you are having building work carried out, and your current system is no longer suitable. Whatever the scenario is, we can help. There are multiple different types of heating systems that we can install to meet all of your needs.
A new heating system is likely to be much more efficient than your current setup and can offer savings on your energy bills which is essential with the current energy prices.
At Buxton Plumbing & Heating our operatives are qualified to install both Gas and LPG boilers and appliances so you can rest assured that your installation will be carried out to current building regulations and the highest possible standard.
Boiler Replacement Buxton
Whether your boiler has broken down, or you are looking to replace it for one that is more efficient or even to convert your current system to a combi boiler and allow for the removal of your existing hot water cylinder and tanks, then we can help.
We have the skills and experience required to ensure that your new boiler will perfectly meet your demands and that it is correctly sized and installed for optimal efficiency.
Boiler Servicing
Having your boiler serviced regularly ensures that it remains in good condition and allows us to potentially resolve any issues before they cause a breakdown or even more serious repair works are required. When carrying out a service, we will check the overall condition of the boiler, ensure it is fully functioning as it should be, and advise of any upcoming issues.
It is advisable to have your boiler serviced annually, and we can arrange to contact you yearly to remind you when it is due for its next inspection.
Central Heating Installation | Boiler Upgrades | Repairs & Maintenance
For all your central heating needs, we can help. Contact us today .
Boiler & Central Heating Breakdown
If your central heating is not working, then we can help. Breakdowns are widespread, and sometimes they are easy to resolve. Whether it is your boiler that is faulty or a component of your central heating system, we will be able to pinpoint the fault quickly.
With our operatives' expert knowledge, you can rest assured that we will be able to resolve your issues swiftly, ensuring that you are back up and running in no time at all.
Gas Certificates | CP12's
We work with many clients who have yearly gas inspections carried out. Maybe you are a landlord or a letting agent needing a reliable plumbing and heating company in Buxton and the surrounding areas of Derbyshire; to provide you with gas safety certificates. If so, we can help.
Yearly gas checks are essential for many of our clients, and ensuring that your gas products are kept in a safe condition with any issues highlighted is paramount.
Power Flushing
Over time a central heating system can become sludged up and can lead to blockages which can ultimately damage the system. At Buxton Plumbing & Heating, we offer power flushing, which is one of the best ways of removing all the harmful buildup. It works like a power jet washer by blasting water to one part of a heating circuit at a time, allowing it to be thoroughly rinsed out using chemicals. Once completed, we dose the system with an inhibitor to ensure it stays in optimum condition for as long as possible.
How often should I get my boiler serviced?
It's generally recommended that you get your boiler serviced once a year. This will help keep it running smoothly and efficiently and help spot any potential problems early on before they have a chance to cause significant damage.
How often should I bleed my radiators?
If your radiators have cold spots, they likely need bleeding. This is a relatively simple process that you can do yourself, and it's something that you should aim to do regularly (perhaps once or twice a year).
What are some signs that I need a new boiler?
There are several signs that you might need a new boiler, including:- Your boiler is more than 15 years old- You constantly have to bleed your radiators- Your heating bills have increased significantly- Your boiler makes strange noises or starts to smell- You have hot water—still, no central heating. If you're experiencing any of these problems, we can conduct a free survey and advise you.
I think there's something wrong with my drains; what should I do?
If you think there may be a problem with your drains, the best thing to do is call us for a free survey. We'll be able to identify any potential problems and advise you on the best course of action.
Why has my toilet suddenly started running?
There are a few different reasons why your toilet might start running, but the most common one is that the ball valve inside the cistern has become stuck in the "up" position. This means that water is constantly being fed into the cistern, even when it's not needed. The good news is that this is usually a straightforward problem to fix!
My tap is dripping. What should I do?
If your tap is dripping, the first thing you should do is try to Tighten it. If this doesn't work, you'll need to replace the washer. This is a relatively simple process, but if you're not confident doing it yourself, we can come and take a look.
What is a combi boiler?
A combi boiler is a type of boiler that provides both heating and hot water directly from the boiler. This means you don't need a separate water tank or cylinder, making it a more space-efficient option.
Whatever your plumbing requirements are, you can be sure that we can help. No job is too big or small for us to undertake.
Plumbing is a broad term and can cover many services which we offer, including:
Blocked Toilets and drains

Leaking taps

Leaking showers

Outside tap installations

Washer replacements

Dripping taps

Leaking overflows

Burst Pipes

Hot water cylinder replacement

Unvented Cylinders | Megaflo

Cold water storage tank replacement

Pipework alterations
No matter what your plumbing needs are, you can be sure that our experienced operatives will be able to take care of them swiftly.
Don't allow those minor plumbing issues to become more serious. Dealing with them promptly will ensure your plumbing remains in good shape and prevent further unnecessary expenses.
Plumbing and Emergency Callouts
We will take care of all your plumbing needs. We offer planned and emergency service. Please contact us anytime.
Blocked Toilets and drains
Are one of the most common daily problems we, as plumbers, are called to deal with. So what causes these blockages? In most cases, it's simply because people are unaware of what they should and shouldn't flush down their toilets. For example, did you know that baby wipes, even the ones that claim to be "flushable", can cause significant blockages in your sewer lines? The same goes for feminine hygiene products, paper towels, and even certain types of toilet paper.
Another common reason for blocked toilets and drains is tree roots. If you have trees in your garden, there's a good chance that their roots have made their way into your sewer lines and are causing problems. This is especially common in older homes with clay sewer pipes.
If you're dealing with a blocked toilet or drain, the first thing you should do is give us a call, and one of our experienced plumbers will attend your home to take a look and determine the best course of action. In most cases, we can clear the blockage without significant work.
Leaking taps
In most cases, a leaking tap is caused by a worn washer. The washer is a small rubber disc that sits under the tap's handle. Over time, it can become worn out and start to leak.
If you have a leaking tap, you should first turn off the water at the mains. This will prevent any further damage from being done. Once the water is turned off, call, and we'll send one of our experienced plumbers to your home to take a look and fix the problem.
Leaking showers
Another common plumbing problem is a leaking shower. This can be the shower tray which is leaking, the shower door, or the actual shower unit itself.
Please give us a call and we will arrange a suitable time to attend and look at the best option to resolve your issues.
Outside tap installations
If you need an outside tap installed, then we will be happy to help. We'll install the tap in a convenient location and make sure that it's properly connected to your water supply, and compliant with water regulations.
Washer replacements
If your taps are leaking, you likely need to have the washers replaced. We can do that for you quickly and easily. If you wish, we'll also look at the rest of your plumbing to ensure that there are no other problems that need to be dealt with.
Dripping taps
A dripping tap is a common plumbing problem often caused by a worn washer. If you have a dripping tap, then we will assess the exact problem, and then resolve the issue promptly.
Leaking overflows
If you have a dripping overflow it is a warning sign that something in your plumbing system is not quite right. We will be able to identify exactly what is letting by, and then assess the root cause, and resolve the issue as necessary.
Burst Pipes
If you have a burst pipe, it's essential to turn off the water at the mains, we will then attend and repair the leak as quickly as possible. A burst pipe can cause a lot of damage and it is essential to ensure your stop cock is easily accessible at all times and has not become seized up. If you can not move your stop cock then we can replace it for you.
Hot water cylinder replacement
Over time hot water cylinders become old and can start leaking or even burst, we can replace them for you. We can also look at upgrading them to an unvented cylinder if you are looking for a pressurised hot water circuit. Please call us to discuss.
Unvented Cylinders | Megaflo
 If you have an unvented cylinder or a pressurised system, it's essential to have it serviced regularly. We can service your system and make sure that it's running correctly. We can also repair any leaks or other problems you may have. We also offer replacement unvented cylinders and parts. We can install all different makes including Heatrae Sadia, Gledhill, Telford, and so on.
Cold water storage tank replacement
A cold water storage tank can become old, and then start leaking or burst, if you find yourself in a situation where yours is leaking then do call us anytime and we will assess the situation and arrange for a replacement to be installed..
Pipework alterations
If you need to make any alterations to your pipework then we can help. We can extend your pipework or move it to a different location. We can also repair any leaks or other problems you may have. Maybe you are having a new washing machine installed in a new location, or even a dishwasher, or a fridge freezer that needs a cold feed for ice and water. Whatever the scenario we can help. Call us today!
EMERGENCY PLUMBING BUXTON
We offer an emergency service. If you have a leak or a blockage that needs urgent attention call us straight away. We will do our utmost to deal with it as swiftly as possible.
Got an Emergency?
Call us immediately. We understand that leaks and blockages can be frightening for our customers.
Day or Night
Our emergency service is 24/7 – If you need us, then we are here for you.
When it comes to bathroom installations, Buxton Plumbing & Heating's operatives are the best around. With years of experience and the ability to take on-board our customers' visions and make them a reality, we know how to get the job done right.
Attention to detail is crucial with bathroom refurbishment projects. We have the skills to ensure that your new bathroom will be planned out from start to completion to deliver a perfect finish for you and your family.
Along with plumbing, we offer a complete package to include all necessary building works. This includes plastering, electrics, tiling, decorating and carpentry. We will take care of everything from start to completion to ensure that you are left with a flawless finish that you will be proud of for years to come.
As well as installing bathroom suites, we also offer:
Walk in showers

En-suites

Cloakrooms

Disabled Adaptations | Doc M
Whatever your bathroom installation needs are, please call us anytime to discuss your requirements.
Bathroom Remodels and Installations
We install bathrooms, en-suites, and cloakrooms. No matter the size of your project we can help. Call us anytime to arrange a free onsite survey.
Domestic & Commercial Plumbing
All of our plumbing services and available for both domestic and commercial clients. Whether you need a set of taps changed in your home, or multiple bathrooms installed in a hotel, we are here to serve you.
Call today
Buxton Plumbers
No matter what your plumbing and heating requirements are in Buxton and the surrounding areas of Staffordshire, you can be sure that we will be able to help.
Our goal is to become known as the best plumbing company in Buxton, and to do this, we need to be consistently providing value and helping all of our clients.
Please do get in contact anytime to discuss precisely how we can serve you. Also check out things to do in Buxton

A Plumber in Buxton that cares about your needs.
If you are searching for Heating Engineer near me or even plumbing company near me, and we popped up in the searches, then we likely cover your area.
We work throughout Buxton and the surrounding areas and offer a 24-hour service.
Please do get in contact, and we will be happy to discuss the work that you require and also arrange a time that is convenient for you to carry out a free onsite survey.
Introduction: When it comes to central heating installation, it's not just about staying warm and cosy during the chilly months. There are necessary regulations and guidelines in place to ensure the safety, efficiency, and environmental impact of your heating system....